Tiny act of craftiness
Yesterday I cleaned out the bag I was dragging around South Africa (not a day too soon, we came back home over three months ago...). Beside my passport and some dinnermints I collected in various restaurants over there, I found a 'Savanna Dry' crown cap. There was a slightly smaller magnet in my drawer, so I glued it inside the cap. My husband wanted to have it as a souvenir for his magnetic board: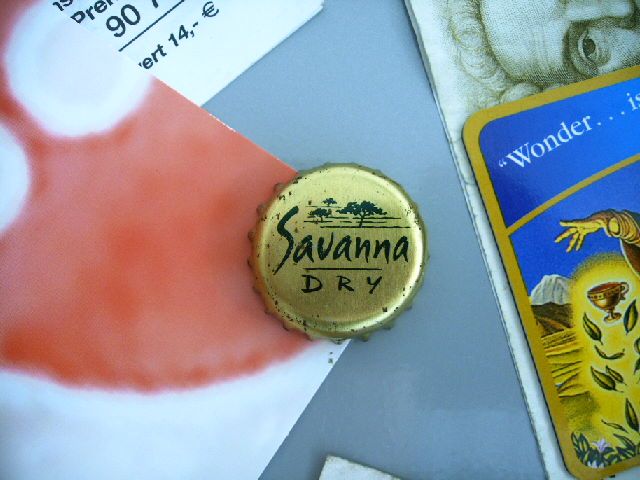 It really does remind me of our honeymoon everytime I see it (no, we didn't get plastered every day...) because there are a lot of 'junk' crafts in South Africa. They use bottlecaps, telephone wire etc. and turn it into a piece of art.
'Savanna Dry' is a typical South African beverage - it's cider and you stick a lemon wedge in the bottleneck before you drink it.
'myblog.de' was down again today. I'm seriously considering to switch to another blog host. CAN YOU HEAR ME MYBLOG???
Out of curiosity I preordered the adult edition of 'Harry Potter and the halfblood prince'. Adult edition? I can't imagine Harry doing anything naughty, can you?